How to Maximize Your New Kitchen Space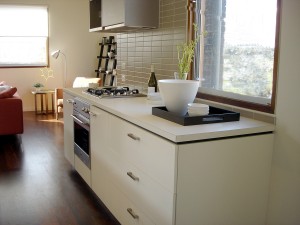 When it comes to food, the kitchen is where the magic happens. For many homeowners, the kitchen is a hub of activity; it's where family meals are prepared and cooked. However, sometimes, in order to get the best out of your new home, you sometimes need to sacrafice certain things. For many, this sacrafice is a small kitchen. At Jersey Shore Moving & Storage, we've put togethr top tips on how to maximize your new kitchen space if it's slightly on the small side.
Utilize Cupboards
Cupboard space may be limited, but if you keep them organized and ensure that everything has its own place, you can really get the most out of your cupboards. There are a number of plate holders and organizers that allow you to stack for space saving.
Hang Pots and Pans
If you have space overheard or along the walls, consider using hooks to hang your pots and pans on. This can be a great space saver as pots and pans tend to take up a lot of room in cupboards.
Don't Hoard Kitchen Utensils
A move is an excellent opportunity to conduct a clear-out of the entire house. When it comes to the items in your kitchen, you should only keep onto what you need. You'll probably find that you don't use all the kitchen items you own, so a move is a great time to reduce the clutter.
Use Table-Top Holders
Instead of taking up drawer  and cupboard space with items such as cups and cutlery, use table-top holders. Not only will this save space, but the items will be within reach when you need them.
Need Further Advice?
If you need any more assistance on moving tips, simply get in touch with a professional at Jersey Shore Moving Storage. You can call us at (732)-295-9988 or get in touch with us online. We look forward to helping you.