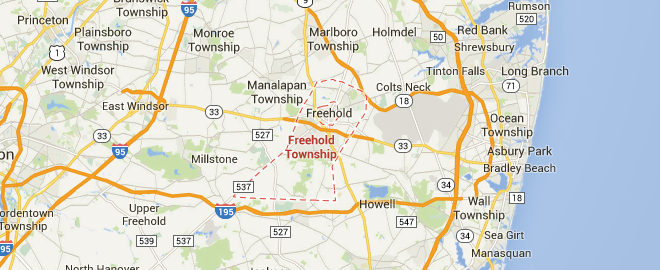 Get insider information from a Freehold, NJ mover
Planning to move to Freehold? You're sure to feel at home as soon as you set foot in this vibrant community of a little more than 36,000 residents. No matter why you're making the move, you likely have questions about what to expect when you arrive in the area. There's no better source of information than a local. As a Freehold, NJ mover, we want to help ease your transition to your new home by helping you get acquainted with the area before you move in.
What to expect when you move to Freehold
There are so many reasons why our Freehold, NJ mover loves this area. According to the 2010 United States Census, the community has a median family income of $112,094 and less than 4% of its citizens live below the poverty line. The area also boasts a low crime rate, so you can feel safe when you live in Freehold.
A look at the schools and healthcare
If you have children – or are planning to start a family – you'll be happy to know that the community has a number of good schools, including a variety of vocational schools.
From pre-K to eighth grade, public school students will attend one of the eight schools that are a part of Freehold Township Schools. As for the high schoolers, they will attend Freehold Township High School or Freehold High School. These students also have the opportunity to attend a vocational program that focuses on biotechnology, science and technology, communications, or allied health.
To keep you and your family healthy, Freehold offers CentraState Medical Center, which is part of the University of Medicine and Dentistry of New Jersey – Robert Wood Johnson Medical School. You may also find a job at CentraState because it is the fourth-largest employer in the county.
Relaxing and having fun
Wondering how you can spend your leisure time? The municipality has something for everyone. You can find the Freehold Raceway Mall, which is a high-end shopping mall that is the second-largest in the entire state of New Jersey. Don't forget to bring your walking shoes!
Freehold is also home to iPlay America, an indoor family entertainment center that features rides, arcade games, laser tag, and restaurants. If you love horses, you can visit the country's oldest half-mile harness race track, Freehold Raceway. There is also a wealth of parks that feature trails and various recreational activities for people who enjoy spending time outside.
Big names come from Freehold
Several famous faces have come from Freehold and the surrounding areas, including world-famous musician Bruce Springsteen, actor Kal Penn, novelist Caren Lissener, and Baltimore Orioles baseball player Brad Brach.
Our Freehold, NJ mover can help you get settled
We know moving is stressful, so let our team help make your transition as easy as possible. We are an experienced Freehold, NJ mover, so you can be confident that we know the area and will be able to safely move your possessions into your new home. Our goal is to help you get settled quickly so that you can start enjoying your new home and exploring your new community.