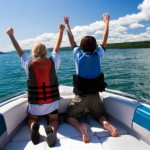 Jersey Shore is home to many attractions and places to visit. However, sometimes it's nice to explore places off the beaten track and find out what else a place has to offer.
Cape May Country Park & Zoo is a fantastic tourist destination for all of the family to enjoy on a day out in Jersey Shore. There are lots of exotic and wild animals to see that you otherwise wouldn't have the opportunity to see. You don't even pay an entry fee; donations are welcomed at the entrance.
On the very clean Cape May beaches, you can enjoy a day of dolphin and whale watching. The day consists of sailing a boat alongside experienced tour guides who will help you spot the sea creatures.
If you want to enjoy something a little weird and wonderful, or you are pinball fanatic, you may want to check out the Silverball Pinball Museum. Yes, it's a bit of a niche museum, but very interesting at the same time.
Jersey Shore is a great place to sample some delicious local cuisine. That is why food tours are becoming more and more popular. There are a number of food tours available, depending on what type of food you enjoy.
Moving to Jersey Shore?
Jersey Shore is beginning to become a popular location to live in. With lots to do throughout the year and family friendly activities, many families are relocating to the home of the famous boardwalk.
If you are moving to Jersey Shore in the upcoming months, get in touch with a professional at Jersey Shore Moving & Storage. We will happily talk you through the services that we offer and provide you with a no obligation quote as well as insider information on what to do in the local area. Call us at (866)-953-MOVE or contact us online to find out more about our moving services.