Movers Serving Red Bank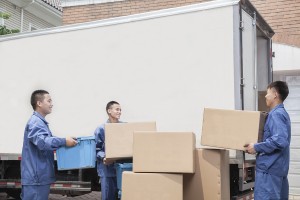 We understand that moving an entire household is stressful, which is why our team of professional Red Bank movers is here to help you manage this transition and reduce your relocation stress. Sound too good to be true? For over 13 years, Jersey Shore Moving & Storage has been serving Red Bank and the surrounding areas, customizing moving experiences to ensure each client receives the services, care, and guidance necessary to make their transition seamless.
Relocation Services for Your Move
Our team of Red Bank movers can relocate homes, condominiums, apartments and anything in between – from teeny tiny to extremely large – because we have the equipment, man-power, and ability to get the job done. Whether you are moving down the road or all the way across town, our local moving service provides you with convenient, affordable options to ensure a stress-free move.
Getting Settled in Red Bank
We know how appealing moving to Red Bank is – in fact, this is the Garden State's very own Greenwich Village, full of funky coffee shops, trendy stores, and eclectic cuisine. Located just five miles from the Atlantic Ocean, Red Bank is not only a great place to visit, but also to live and work. Our team of Red Bank movers wants to ensure this transition is easy for you, which is why we have compiled some helpful resources to get you acclimated to your new home:
Getting Around in Red Bank
Shopping in Red Bank
Regardless of your shopping preferences, there is a shop to provide you with any need you may have:
Make Your Move Simple
The primary goal of our professional Red Bank movers is to minimize the stress you experience during a move. We can pack, unpack, load, unload, and arrange all your belongings, allowing you time to focus on other aspects of moving to a new home and area.
If you are ready to experience a stress-free move, contact our team of Red Bank movers from Jersey Shore Moving & Storage today at (732) 295-9988.